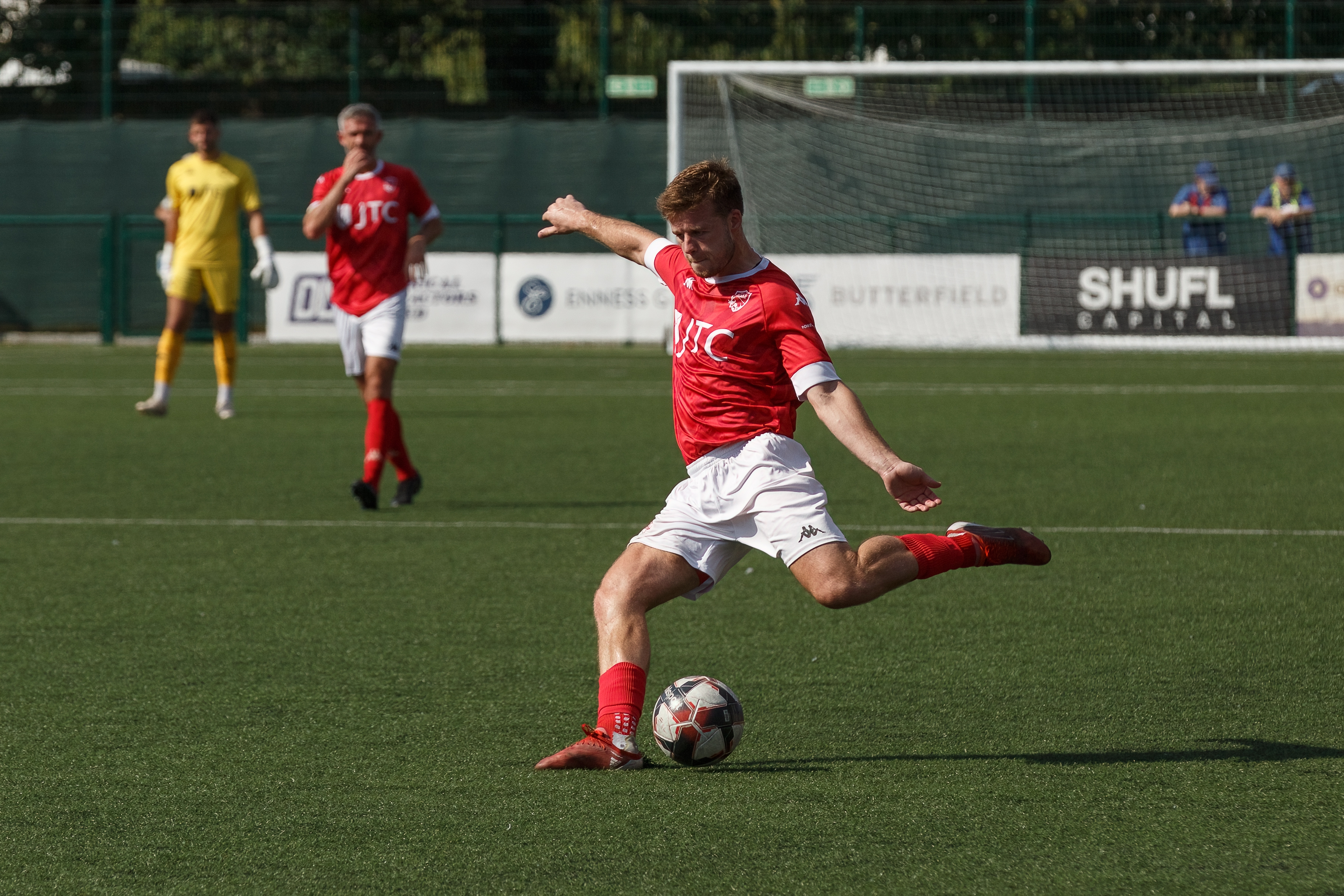 LORNE BICKLEY 31
LORNE BICKLEY 45+1
JAMES CARR 52
Krooner Park

0
3
LORNE BICKLEY 31
LORNE BICKLEY 45+1
JAMES CARR 52
Match Scorers
Away Scorers
LORNE BICKLEY 31'
LORNE BICKLEY 45+1'
JAMES CARR 52'
'
Match Report
Jersey's fourth successive away match was at friendly foes Camberley Town's Krooner Park. Last season they finished 10th in the league with a 15-7-16 61-61 record with Jersey doing the double over them, 4-0 at Camberley in November and 3-0 at Springfield in February. The first included two spectacular Ruben Mendes goals and Lorne Bickley scored in both matches.

This season, with a much changed team, they were in 16th position with a 2-2-2 8-10 record albeit five of their six matches have been played away. They went out of the F.A. Cup at Lydd Town 0-1 in their opening competitive match of the season and they also lost to the only goal of the game at home to Fisher in the F.A. Vase. Success came their way last Tuesday when they won 4-2 in the first round of the Combined Counties Premier Cup. This was at first division Yateley United who attracted 427 to their ground for the "opening" of their floodlights.
Jersey made three changes to the team that drew at Sandhurst Town. Sammy Sutcliffe, Jack Boyle and James Carr started with Ben Le Rougetel relegated to the bench and both Adam Trotter and Francis Lekimamati unavailable. Joining Le Rougetel as a substitute were Seaney McColgan, Will Byers and Miguel Carvalho.
Travel delays meant that Jersey eventually kicked off attacking the Wilton Road end 23 minutes late. Another mild (18C) afternoon was played on a firm but consequently bumpy pitch that could have done with the "heavy roller". This was to "give" Jersey one goal but possibly denied them others.

Early chances were sparse. Bickley failed to get any power on an early header but midway through the half flicked a Jay Giles cross just wide of the top left corner that Max West in the home goal was grateful to see miss. Just after the half hour Bickley opened the scoring. Jonny Le Quesne reached the left byline and put in an awkward mid height cross that Bickley controlled on his right thigh and hit diagonally first time with his left foot as it dropped. The speed of transfer meant it was in the bottom right corner before any of the defence could react. Shortly afterwards the already cautioned Aaron Mead clattered Carr but only spoken to on an afternoon when the referee cautioned three players for kicking the ball away but none for fouls.

In first half added time Bickley added a second. Receiving a long ball forward from Luke Watson he turned and shot but without much power only to see a bobble defeat the diving West as the ball nested in the left corner. Bickley turned provider early in the second half. Playing in Carr near the penalty spot the younger player's first touch lifted the ball and he scored his first Jersey goal with the outside of his left boot with his second. Soon after the hour a corner was nodded down by Luke Campbell to Fraser Barlow whose volley found the midriff of West when a yard either side would have brought a fourth goal to match last seasons result. Carr and substitute Carvalho were also thwarted by the bobbly pitch as Jersey ground out a result to take them back to the top of the table, albeit having played more games their rivals.
Camberley Town 0; Jersey Bulls 3 (Lorne Bickley 31 & 45+1, James Carr 52)

Attendance – 62

Programme – Yes (T.B.A. online only)
Camberley Town – Max West, Luke Benton, Will Shaw, Jack Selby, Cavan Atkinson, Brad Passfield (c), Will Hellestoe, Aaron Mead, Kingsley Anokye, Charlie Oakley, Jadyn Dundas
Substitutes – 12. Wesley Assis (for Oakley 59), 14. Stan Jones (for Mead 61), 15. Bobby Hyland (for Atkinson 73), 16. Enrico Saturnino (for Anokye also 59), 17. Sam Freeman (for Hellestoe also 59)
Very narrow Red & White Stripes at front with all Red back/Red/Red; GK All Green
Luke Turkington (Manager), Andy Sharratt (Assistant), Lee Pollard (Assistant), Billy Ludlow (Coaches), Marcus Ball (Physio.)
Jersey Bulls – Euan Van der Vliet, Harry Curtis, Jay Giles, Sammy Sutcliffe, Luke Campbell (c), Luke Watson, Fraser Barlow, Jonny Le Quesne, Lorne Bickley, Jack Boyle, James Carr
Substitutes – 14. Seaney McColgan (for Carr 76), 15. Will Byers (for Curtis 83), 16. Ben Le Rougetel (for Boyle 66), 17. Miguel Carvalho (for Barlow 66), only four substitutes


White/Light Blue/White; GK All Yellow
Gary Freeman (Manager), Dan Seviour (Coach), Richard Hebert (GK Coach)


Formations
Camberley Town (4-4-2 R to L) 1; 2-5-6-3; 7-8-4-11; 10-9
Jersey Bulls (4-1-4-1 R to L) 1; 2-4-5-3; 6; 7-10-8-11; 9

Referee – Matt Leaning (Surbiton)

Assistants – Adam Parry (Reading) on the dug outs side and Phil Paice (Woking) on the grandstand side

Cautions – Aaron Mead (CT) 9, Jonny Le Quesne (JB) 38, Jay Giles (JB) 76
all three for kicking the ball away "(delay of game")

Corners – Camberley Town (1) 3; Jersey Bulls (3) 4

Player of the Match – Lorne Bickley

Added Time – 2.50 & 5.55 (8.45)
JERSEY BULLS
VS