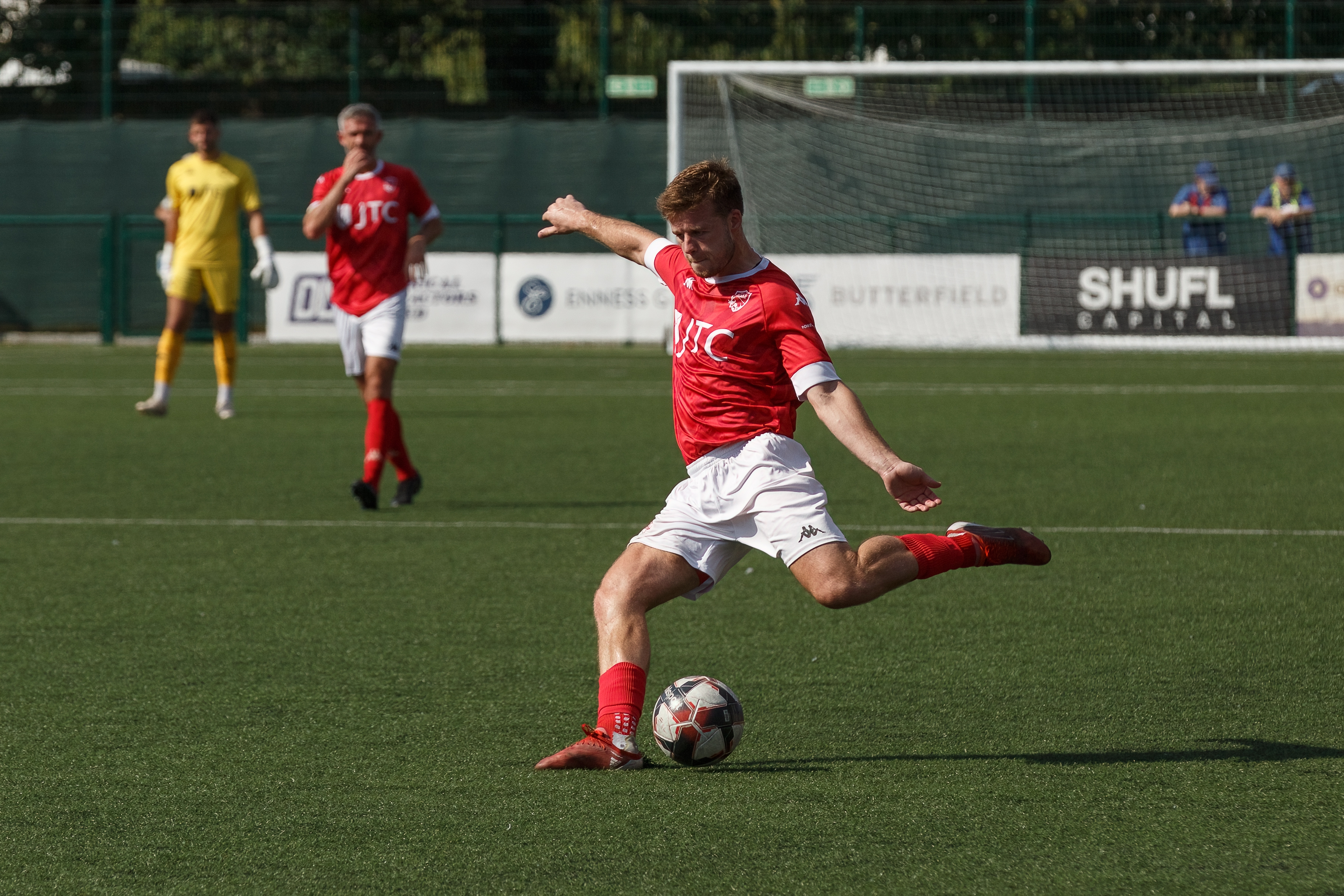 Springfield Stadium
0
1
Match Scorers
Away Scorers
OLALEKAN NOSA OSIDEKO 30'
'
Match Report
Jersey met A.F.C. Croydon Athletic just over four weeks since meeting them at Thornton Heath. An added time winner that night had led to their joint managers, Kevin Rayner and Lee Roots, being "relieved" of their duties the following day.
After an unsuccessful approach to one of the nearby Crystal Palace youth coaches they had "poached" Jermaine McGlashan from league rivals Fleet Town as their new manager. This was only announced three days before the match, with fellow Cheltenham "old boy" Chris Zebroski joining as his assistant. They also fielded four different players in their starting line up since that narrow Jersey win.
Last season Jersey had done the double over Croydon, who finished 15th, 2-1 at Springfield and then 2-0 in the return in late March. This season they were lying 16th with a 2-2-4 11-18 record but had won through two rounds of the F.A. Cup before going down 0-2 at Marlow. They had won 6-1 at Forest Row in the F.A. Vase and were due to travel to Burnham of the Combined Counties North in the next round..
Jersey made three changes to their starting line-up. Adam Trotter returned for the unavailable Jack Boyle whilst Ben Le Rougetel and Francis Lekimamati swapped roles with Sammy Sutcliffe and Fraser Barlow respectively. Sutcliffe and Barlow were joined on the bench by James Queree, returning from injury, Kamen Nafkha and Seaney McColgan.
The sun still shone but a strong northerly wind meant the temperature (15C) was much lower than last week as Jersey kicked off attacking the Town End. Luke Watson put in an early header that was pushed away for a corner and Lorne Bickley shot into the ground after a dozen minutes so it lacked the pace to trouble Oshane Brown. Brandon Pierrick put in a more powerful shot but it went straight to Euan Van der Vliet. Haile Nebay then put in a low cross that Olalekan Osideko missed and he was probably pleased to be signalled offside to spare his blushes.
Just before the half hour a cleverly flighted free kick into the box by Ben Cheklit played in Cian McCarthy for a diving diagonal header that rebounded back off the right post and across the face of the goal before being cleared. Within a minute the visitors had taken the lead. Ben Le Rougetel dispossessed Nebay as he broke down the left but then passed back inside. It was possibly intended for Luke Campbell but Osideko nipped in between him and the onrushing Van der Vliet, reached the left byline and lifted the ball over Campbell as he attempted to recover at the near post.

The second half saw Shawniki Clement-Peters and Nebay go close before Nebay had to be replaced after dislocating his shoulder. James Carr shot just over from a narrow angle before a twenty-yard free kick from Jay Giles clipped the base of the left post after 77 minutes. Bickley shot over and in the 97th minute put in a powerful shot that was too close to Brown as Croydon's speedy defenders and resolute defenders held on for a welcome victory for the visitors.
Jersey Bulls 0; A.F.C. Croydon Athletic 1 (Olalekan Osideko 30)

Attendance – 725

Programme – Yes (£3.50, 32 pages)


Jersey Bulls – Euan Van der Vliet, Harry Curtis, Jay Giles, Ben Le Rougetel, Luke Campbell (c), Adam Trotter, Francis Lekimamati, Luke Watson, Lorne Bickley, Jonny Le Quesne, James Carr
Substitutes – 12. Sammy Sutcliffe (not used), 14. Kamen Nafkha (for Watson 79), 15. James Queree (not used), 17. Seaney McColgan (not used), 18. Fraser Barlow (for Lekimamati 75)


Red/White/Red; GK All Yellow
Gary Freeman (Manager), Kevan Nelson (Assistant), Dan Seviour (Coach), Richard Hebert (GK Coach), Steve Martin (Physio.)
A.F.C. Croydon Athletic – Oshane Brown, David Boateng, James Teodorescu (c), Ben Cheklit, Michael Phillips, Cian McCarthy, Olalekan Osideko, Noah Joyce, Haile Nebay, Shawniki Clement-Peters, Pierrick "Brandon Pierrick" Keutcha
Substitutes – 12. Elijah Richardson (for Nebay 68), 15. Abraham Coulibaly (not used), 16. Nahum Green (for Osideko 90), 17. Jack Marney (for Clement-Peters 80), 21. Adam Adimi (sub GK) (not used)
Navy Blue (Yellow shoulders)/Navy Blue/Yellow; GK Green/Black/Black
Jermaine McGlashan (Manager), Chris Zebroski (Assistant), Michael Kamara (Coach), Denis Lawton (Physio.)
Formations
Jersey Bulls (4-1-4-1 R to L) 1; 2-4-5-3; 8; 7-6-10-11; 9
A.F.C. Croydon Athletic (4-1-4-1 R to L) 1; 2-5-6-3; 4; 7-10-8-11; 9

Referee – Tolga Inanc (Lambeth) A 28 year old of Turkish lineage making his first visit to Springfield but he had twice looked after our away matches. Qualified in 2012, Starting in local leagues he spent a season with the Hellenic League and is now in his sixth with the Combined Counties.

Assistants – Matthew Downey (Bourne End) On the dug outs side, son of Colin a linesman at the 1983 F.A. Cup Final. Qualified in 1986, rose to Level 3 - refereeing in the Isthmian League and lining in the Conference. He has just joined the Combined Counties list. Richard Graves (Wallingford) On the grandstand side. A flight lieutenant at R.A.F. Benson who qualified in 2020. He spent 18 months with the Hellenic League before joining the Combined Counties in January.
Cautions – Carr (JB) 34, Phillips (CA) 76, Boateng (CA) 82, Green (CA) 90+3
Corners – Jersey Bulls (4) 5; A.F.C. Croydon Athletic (1) 1
Player of the Match – Harry Curtis (as he was in the reverse fixture)
Added Time – 3.35 & 8.10 (11.45)
JERSEY BULLS
VS
7.
Francis Lekimamati
75 ↓