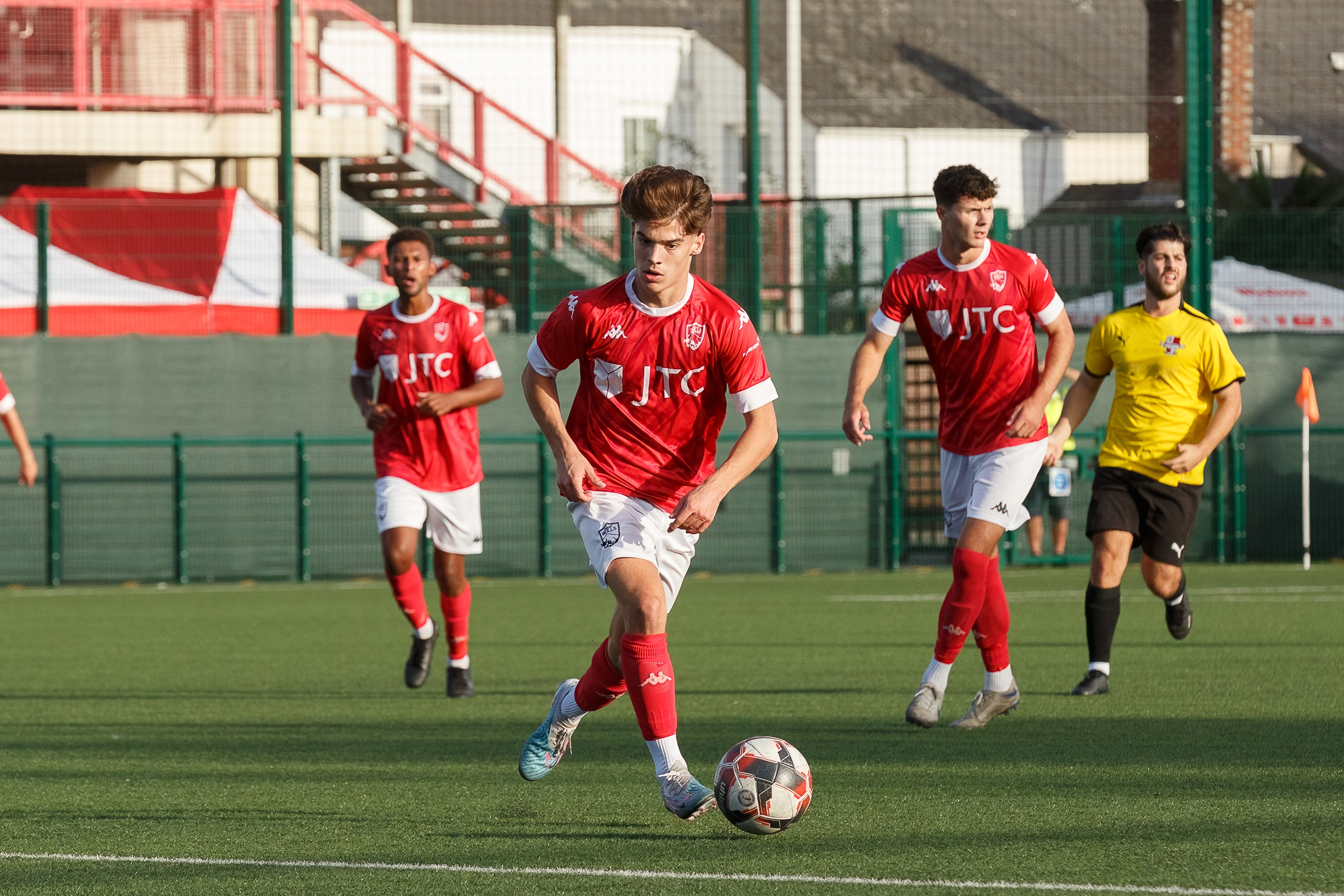 Springfield Stadium
1

1
Match Scorers
Home Scorers
LORNE BICKLEY 90+9'
'
Away Scorers
ADAM AZIZ 62'
'
Match Report
Jersey met Knaphill for the third time this season after two very close encounters in August in the F.A. Cup where after a 1-1 draw at Springfield the only goal was scored in extra time of the replay. Knaphill went on to oust higher level Hanwell Town before falling to Hanworth Villa, again both games seeing a solitary goal.

In the F.A. Vase they defeated Guildford City and Frimley Green before a shock loss last week at Hilltop of the Combined Counties North, again by a solitary goal. In the league, after an opening day draw at lowly Colliers Wood United, they won six consecutive games before losing 0-3 at league leaders Farnham Town. They have bounced back from that with two more wins so that they now lie third, three points behind Jersey but with three games in hand, their record being 8-1-1 27-12.
In the last six matches with Knaphill, three have ended in draws and only nine goals have been scored. Last season Jersey lost to the only goal at Springfield before a goalless draw at Knaphill, who finished the season in 7th position.
Jersey made one change to their starting line-up with James Queree returning to the team. After pulling his hamstring in the replay at Knaphill two months ago he had made only two substitute appearances. He displaced Sammy Sutcliffe who was on the bench alongside Kamen Nafkha and Fraser Barlow who replaced Kevan Nelson and James Carr respectively. Francis Lekimamati and Ben Le Rougetel joined them.
A day of heavy showers (15C) with a strong westerly wind saw Queree opt to change ends giving Knaphill the kick-off attacking the Town end. Jersey held the early edge but chances were few and far between. Mid way through the half a Lorne Bickley shot was blocked but Jack Boyle placed the follow up far too close to Jos Barker in the Knaphill goal. Five minutes before the break Knaphill had a reprieve when neither the well placed referee, nor the junior assistant, saw Stacey Thripp handball a Seaney McColgan lofted pass near the penalty spot.
After the interval Boyle again found Barker's legs before just after the hour Knaphill went ahead. Adam Aziz cut in from the left but put in a low diagonal cross just as he was losing possession. It eluded everyone and crept in to the bottom right corner.
Knaphill then employed the "dark arts" to run down the clock with their physio' the busiest person as he tended numerous "injuries" as they racked up five cautions. Luke Watson also gained one for wrestling the ball back and a second for him eleven minutes later saw Jersey reduced to ten men just before the start of added time.

Despite Knaphill's complaints added time was correctly lengthy and in the ninth minute substitute Fraser Barlow did well to hold off three defenders and pass the ball to Bickley left of centre. They was still much to do but Bickley rounded opposition captain James Ward and from a narrow angle slipped the ball past Barker. Cue delirium both on and off the pitch as the crowd were equally frustrated by the tactics.
Jersey Bulls 1 (Lorne Bickley 90+9); Knaphill 1 (Adam Aziz 62)

Attendance – 644

Programme – Yes (£3.50, 32 pages)


Jersey Bulls – Euan Van der Vliet, James Queree (c), Jay Giles, Harry Curtis, Luke Campbell, Luke Watson, Seaney McColgan, Jonny Le Quesne, Lorne Bickley, Jack Boyle, Miguel Carvalho
Substitutes – 12. Sammy Sutcliffe (not used), 14. Kamen Nafkha (not used), 15. Francis Lekimamati (for Carvalho 66), 16. Ben Le Rougetel (not used), 18. Fraser Barlow (for McColgan 66)


Red/White/Red; GK All Green
Gary Freeman (Manager), Kevan Nelson (Assistant), Dan Seviour (Coach), Richard Hebert (GK Coach), Steve Martin (Physio.)
Knaphill – 1. Jos Barker, 3. Brandon Jackson, 5. James Ward (c), 7. Zac Hawker, 8. Stacey Thripp, 9. Sebastian Karczewski, 10. Calvin Camara, 12. Aaron Burchitt, 18. Adam Aziz, 21. Nick Thumwood, 23. Bradley Pegg
Substitutes – 2. Zac Horkan (not used), 11. Jake Hawker (for Camara 65), 19. Josh Pound (not used), 20. Sean Swift (for Aziz 75), 26. Jamie Pike (not used)
Luminous Yellow/Navy Blue/Navy Blue; GK All Pink
Jamie Daltry and John Cook (Joint Managers), Lee Trussler (Assistant Manager), Mark Gorman and Ricky Mallet (Coaches), Frank Hampton (Physio.)
Formations
Jersey Bulls (4-1-4-1 R to L) 1; 2-4-5-3; 6; 7-10-8-11; 9
Knaphill (4-1-4-1 R to L) 1; 3-12-5-23; 8; 18-21-7-10; 9

Referee – Joe R.T. Alborough (Teddington, Middlesex). A 27 year old initially from Essex making his first visit to Springfield, but he lined three away games last season. Qualified in 2012 initially officiating in his home county and then in Shefield whilst at university there. In his fifth season with the Combined Counties and promoted to Level 4 (refereeing in the Premier divisions) this season.

Assistants – Steve Hart (Ashford, Middlesex) On the dug outs side, qualified in 1992. Initially with the Suburban League, now with the Combined Counties League for the last nine years. Refereed the second Jersey home match in 2019-20 and our visit to British Airways in 2020-21. On the line at Springfield in April 2022 for the visit of Beckenham Town and again at Raynes Park Vale a year later.
Paul Savva (Stanwell, near Ashford, Middlesex) On the grandstand side, of Cypriot lineage, qualified in 1999. Initially with the Middlesex County and Suburban Leagues before joining the Spartan South Midland League for three seasons, until re-allocated to the Combined Counties. Now in his third season there, was previously here in April 2022 for the Redhill fixture.
Cautions – Camara (K) 13, Bickley (JB) 30, Z.Hawker (K) 41, Ward (K) 48, Jackson (K) 74, Watson (JB) 79, Swift (K) 85, Watson (JB) 90 & off
Corners – Jersey Bulls (0) 1; Knaphill (1) 2
Player of the Match – Jonny Le Quesne

Added Time – 5.10 & 10.35 (15.45)
JERSEY BULLS
VS
15.
Francis Lekimamati
66 ↑