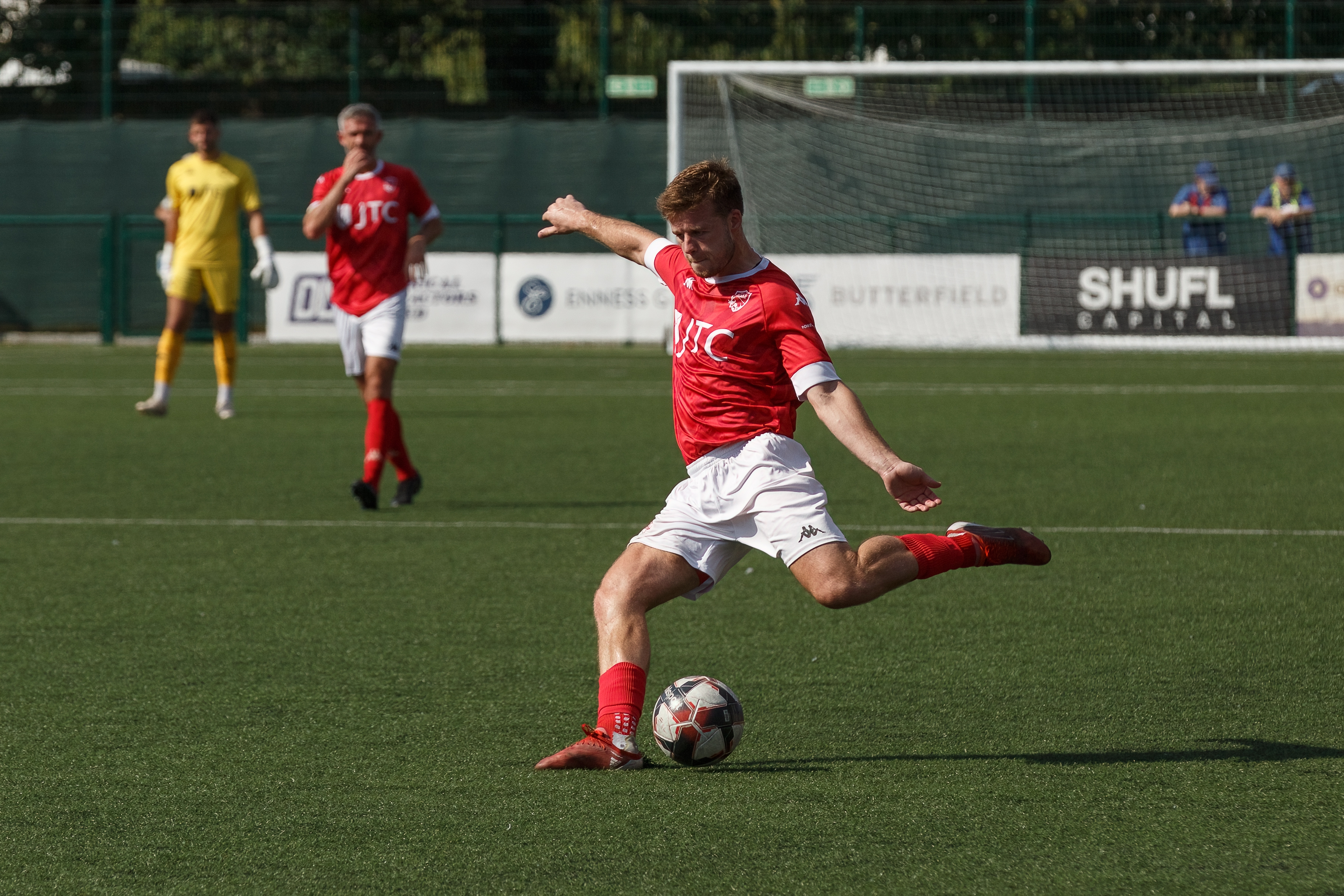 MATTHEW YATES 16
MATTHEW YATES 30
MATTHEW YATES 50
JORDAN KIRKPATRICK 63
Springfield Stadium
1

4
MATTHEW YATES 16
MATTHEW YATES 30
MATTHEW YATES 50
JORDAN KIRKPATRICK 63
Match Scorers
Home Scorers
LUKE WATSON 90'
'
Away Scorers
MATTHEW YATES 16'
MATTHEW YATES 30'
MATTHEW YATES 50'
JORDAN KIRKPATRICK 63'
'
Match Report
Jersey Bulls took advantage of the Scottish League Cup structure, eight groups of five, to invite one of the teams without a fixture in the final round of matches to play Jersey's only pre-season friendly. Many of the Jersey players had played five matches in six days in winning the gold at the Island Games two weeks previously.
Stenhousemuir had not fared as well in their earlier matches, losing to two non- league sides, Lithlinglow and Tranent, before finishing bottom of their League Cup group. They had started that well by defeating the group favourites St. Johnstone but had then lost to Ayr United, Stirling Albion and Alloa Athletic.
Jersey started with a similar side to that which had played their final match of last season against Redhill. The three absences being Joe Kilshaw, on the bench, Lorne Bickley, on holiday and Sammy Henia-Kamau, now with Swansea City. Three others that might have been in contention to start the match; Fraser Barlow, Frank Tobin and Adam Trotter; were also absent. In to the side came Kamen Nafkha, Darryl Mvalo and Jake Baker-Mulholland, the latter last seen in Jersey's opening season.
After the teams were led out by a bagpiper on a sunny (19C) early evening Jersey kicked off attacking the Town End. The Scots soon took control and opened the scoring just after the quarter hour. Ross Taylor in midfield swiftly broke down the right and his low cross from the edge of the area found Matthew Yates unmarked near the penalty spot. His low shot caught the covering Luke Campbell's heel to wrong foot Euan Van der Vliet who had dived to his right.
A second goal arrived on the half hour. Michael Anderson, Adam Brown and triallist Matthew Shiels combined to leave Yates in space again and he remained composed on the left of centre to place the ball into the bottom right as Van der Vliet and Campbell both moved to cover the other corner.
Four Jersey and two Stenhousemuir changes were made at half time and soon afterwards the Scots brought on their journeyman Englishman Nat Wedderburn, who now has played for five English and seven Scottish clubs. Within seconds of him coming on James Berry was played in down the left and his pull back from the left byline found Yates eight yards out. He completed his hat-trick by quickly turning and finding the bottom left corner.
Playing out from the back cost Jersey the fourth goal. Wedderburn in midfield intercepted and ball flew to the unmarked centrally positioned Jordan Fitzpatrick. A couple of strides and from the edge of the box he confidently found the top left corner as substitute 'keeper Pierce Roche gambled on going the other way.
With the last play of the day Jersey gained a consolation goal. Luke Watson, Ben Le Rougetel and James Carr patiently worked the ball down the left until Carr's cross found substitute Harry Scott. Scott's shot was well saved by Stenhousemuir's substitute 'keeper Cameron Lyle but the ball ran kindly to Watson to tuck away the chance and prevent a Scottish clean sheet.
Jersey Bulls 1 (Luke Watson 90); Stenhousemuir 4 (Matthew Yates (3) 16, 30 & 50, Jordan Kilpatrick 63)
Attendance – 642
Programme – None (only VIP team sheets)
Jersey Bulls – Euan Van der Vliet, James Queree (c), Jay Giles, Ben Le Rougetel (wore 19), Luke Campbell, Kamen Nafkha, Francis Lekimamati, Luke Watson, Darryl Mvalo, Jake Baker-Mulholland, Jonny Le Quesne
Substitutes – 12. Harry Curtis (for Campbell 46), 14. Joe Kilshaw (for Nafkha 46), 15. James Carr (for Giles 60), 16. Miguel Carvalho (for Lekimamati 46), 17. Harry Scott (for Mvalo 55), 18. Sammy Sutcliffe (for Baker-Mulholland 60), 21. Pierce Roche (for Van der Vliet 46)
Orange & Brown/Black/White; GK All Green, Sub GK All Yellow
Gary Freeman (Manager), Kevan Nelson (Assistant), Dan Seviour (Coach), Richard Hebert (GK Coach), Sam Bickley (Analyst)
Stenhousemuir – Darren Jamieson, Ross Taylor (wore 12), Aaron Reid (triallist), Gregor Buchanan (c), Nicky Jamieson, Michael Anderson (wore 17), Jordan Kirkpatrick, James Berry, Matthew Shiels (wore 14) (triallist), Matthew Yates, Adam Brown
Substitutes – 2. Ross Meechan (for Reid 46), 6. Nat Wedderburn (for Anderson 49), 9. Gary Naysmith (not used), 16. Euan O'Reilly (for Yates 78), 18. Brown Ferguson (not used), 34. Curtis Lyle (for D.Jamieson 46), only six substitutes
Black/White/Black; Both GKs All Lime Green
Gary Naysmith (Manager), Brown Ferguson (Assistant), Myles Hogarth (GK Coach),
Reece Robertson (Kit Man)
Formations
Jersey Bulls (3-4-2-1 R to L) 1; 2-5-19; 7-6-8-3; 11-10; 9
Stenhousemuir (4-4-2 R to L) 1; 12-4-5-3; 11-8-17-7; 14-10
Referee – Harry Walker (Jersey); Added Time – None for either half
Assistants – Gareth Walker (Jersey) on the dug outs side, Jamie Guyan (also Jersey) on the grandstand side.
Caution – Pierce Roche (JB) 80
Corners – Jersey Bulls (1) 5; Stenhousemuir (5) 10
Jersey Bulls Player of the Match – Luke Watson
Overall Player of the Match – Matthew Yates, Stenhousemuir
JERSEY BULLS
VS
1.
Euan Van der Vliet
46 ↓
7.
Francis Lekimamati
46 ↓