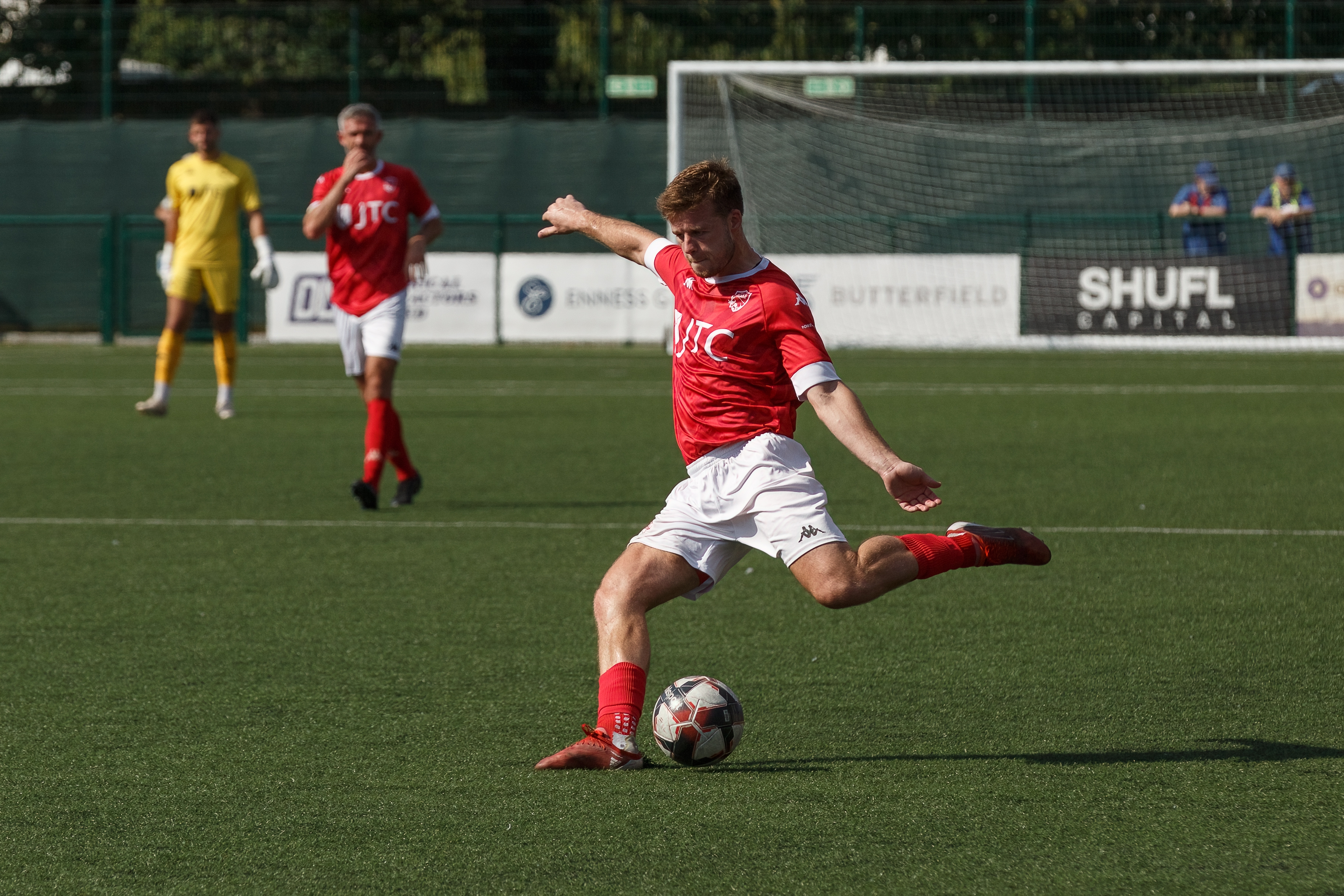 (OG) CONNOR THORNE 55
JONNY LE QUESNE 72
LUKE WATSON 90+1
Springfield Stadium
(OG) CONNOR THORNE 55
JONNY LE QUESNE 72
LUKE WATSON 90+1
3
0
Match Scorers
Home Scorers
(OG) CONNOR THORNE 55'
JONNY LE QUESNE 72'
LUKE WATSON 90+1'
'
Match Report
These teams played out two goalless games in their league meetings last season but Tadley had won 4-2 at Barlow's Park in late August in an exciting game where
Jersey did not play badly but the hosts had had the "Midas" touch.
Tadley were 7th in the league but with numerous games in hand on every other club in the division. Their record was 7-0-3 18-12 with the three defeats being at Sheerwater in their opening league game, at home to Tooting and Mitcham United, like Jersey by the only goal of the game, and 0-4 at the all conquering Farnham Town. In each of the F.A. Cup, F.A. Vase and Hampshire Senior Cup they had won through one round before losing in the next.
Jersey made just one change to the team that had defeated Holyport the week before with Ben Le Rougetel replacing the unavailable Francis Lekimamati. Luke Watson, back after suspension, Harry Scott and Seaney McColgan were added to the bench.
After another wet week which wiped out all but one match in local football the day was damp and overcast, but mild (15C), as the visitors kicked off attacking the Robin Hood end.
Lorne Bickley spurned an early chance when he rode a tackle on the edge of the box after a flick on by Fraser Barlow. However, the ball had fallen to his weaker left foot and he placed his shot wide of the right post. The only other incident of note in the first half was another Jersey chance wasted. Kamen Nafkha played a clever reverse pass to Barlow who went for power, not placement, only to find the left side netting.

The breakthrough eventually came ten minutes after the interval. A Jay Giles free kick from the right eluded both Jordan Goater and Bickley but landed on the head of the unsighted Connor Thorne ten yards out and left of centre. He "arrowed" his header into the bottom right corner to open the scoring just as he had at Tadley in the reverse fixture. This time though at the wrong end for his team.
Bickley had a fierce shot parried away before four minutes later he and the ever increasingly influential Jonny Le Quesne played a one-two on the right side of the box. Le Quesne then astutely chipped Craig Atkinson in the Tadley goal from close in to give Jersey breathing space in case the surprisingly dormant Tadley attack came to life in the later stages.
The icing on the cake came in added time. A corner on the right from substitute McColgan was headed diagonally on at the near post ten yards out by a flying James Queree. It was stabbed home from a yard out by Watson at the far post.

A welcome win to keep Jersey in contention for the play-off places where they might be joined by Tadley but today they failed to register a corner or a shot on target.
Jersey Bulls 3 (Connor Thorne own goal 55, Jonny Le Quesne 72, Luke Watson 90+1), Tadley Calleva 0

Attendance – 626

Programme – 32 pages, £3.50
Jersey Bulls – Euan Van der Vliet, James Queree (c), Jay Giles, Harry Curtis, Luke Campbell, Kamen Nafkha, Jonny Le Quesne, Ben Le Rougetel, Lorne Bickley, Fraser Barlow, James Carr
Substitutes – 14, Frank Tobin (not used), 15. Harry Scott (for Barlow 80), 16. Luke Watson (for Giles 65), 17. Seaney McColgan (for Le Quesne 88), 19. Adam Trotter (for Nafkha 65)
Red/White/Red, GK All Yellow
Gary Freeman (Manager), Kevan Nelson (Assistant), Richard Hebert (GK Coach), Dan Seviour (Coach), Steve Martin (Physio.)
Tadley Calleva – Craig Atkinson, James Batchelor, Dan Morrissey, Brad Neal, Jordan Goater (c), Ousman Darboe, Jack French, Arejend Ahmetaj, Kieran Rodgers, Alex Fragata, Connor Thorne
Substitutes – 14. Ornildo Shehu (for Rodgers 84), 15. Sheldon Wright (for Darboe 63), 16. Alex Miller (for Morrissey 74), 17. Adam Hargood (for Fragata 84), only four substitutes
Light Blue & Dark Blue halves with Light Blue backs/Dark Blue/Dark Blue, GK All Green
Joe Lawler (Manager), Matt Moore (Assistant), George Coffin (Coach), Carolyn "Caz" Tuttle (Physio.), Barrie Awbery (Assistant Physio.)

Formations
Jersey Bulls (4-1-4-1 R to L) 1; 2-4-5-3; 8; 7-6-10-11; 9
Tadley Calleva (4-4-2 R to L) 1; 2-4-5-3; 11-6-8-10; 7-9

Referee – Dylan J. Ing (Aylesbury) 24, 8 years officiating. A season running lines on the Hellenic League, a season refereeing in the Spartan South Midlands League and this his third season with the Combined Counties. His second Springfield visit having refereed the Banstead Athletic game in March.

Assistants – Michael Heavey (Stanmore) on the dug outs side and Phil Paice (Woking) on the grandstand side. Both last here in Oct. 2022, Tadley and Frimley.

Cautions – Nafkha (JB) 24, Morrissey (TC) 53, Barlow (JB) 67, Queree (JB) 76
Corners – Jersey Bulls (2) 5, Tadley Calleva (0) 0
Player of the Match – Jonny Le Quesne
Added Time – 1.20 & 5.55 (7.15)
JERSEY BULLS
VS