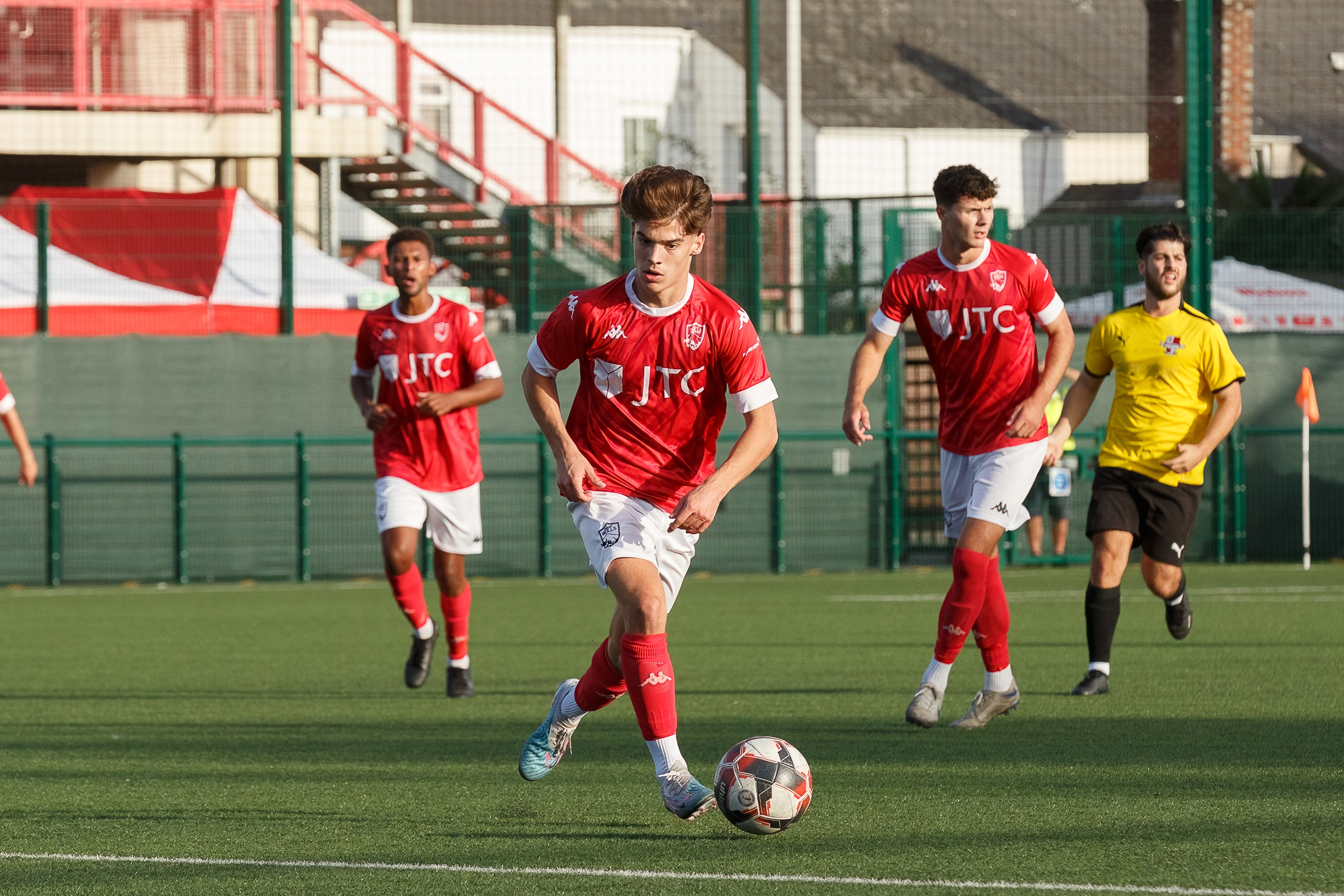 Redding Way

1
0
Match Scorers
Home Scorers
DANIEL BONE 105'
'
Match Report
Knaphill win 1-0 AET.
The teams met again now knowing that the winners would host Hanwell Town of the Southern League Premier South Division, two levels above them. Jersey were severely stretched with 17 players unavailable due to injury, holiday, or unable to get the time off work at such short notice. With only 10 fit players able to travel a trio of St. Paul's juniors were called upon. Barry Beatson, Fergus Boyle and Leighton Gilroy were joined by the injured Jonny Le Quesne to make up the team.
Beatson was one of three changes to Saturday's team. He replaced Jake Mulholland whilst James Queree and Adam Trotter came in for Harry Curtis and Kamen Nafkha.
Knaphill had changes of their own with captain James Ward replaced by Brandon Jackson and their attacking options altered. Sean Swift and Adam Poynter who had both come on as substitutes on Saturday started along with Aaron Redford. Out went
Zac Hawker, Seb Karczewski and Jake Hawker the scorer of their wonderful equaliser in the first match. Ward and Zac Hawker were on the bench but Karczewski and Jake Hawker were unavailable.
On a mild (17C) evening with a colourful sunset the patched-up visitors held their own. Unfortunately, the football did not match the sunset and was again rather dour.
Jersey almost broke the deadlock on a quarter of an hour when Luke Watson
found Miguel Carvalho on the left. The hard-working youngster cut inside on to his less favoured right foot and from the edge of the box dragged his shot on to the outside base of the left post.
Another fifteen minutes and another hitting of the Knaphill goal frame. Carvalho chipped the ball forward down the left channel and Fraser Barlow running on to it lobbed Jos Barker in the Knaphill goal. Joe Dyett running back hooked it off the line, via his own cross bar, and Barlow's appeal for a goal fell on deaf ears.
Knaphill's Redford and Calvin Camara both fired over from long range and Dyett, in added time, easily won a header at a corner that fortunately did not trouble Euan Van der Vliet very much but was a portent of what was to come.
The second half was punctuated by substitutions and cautions before the timer on the floodlights, controlled by an American company, switched them off after exactly 82 minutes. It was 22 minutes 30 seconds before play resumed. With two "normal" minutes left Van der Vliet made his first serious stop when a magnificent volley from Swift fortunately went straight at him.
Into extra time it went and Carvalho sent a ball across the face of goal which no one met before substitute Zac Hawker hit a long-range dipping effort that Van der Vliet pushed over. From Poynter's corner on the right Hawker rose highest and this time the loose ball was hooked in by another substitute Dan Bone. Jersey's last chance to go to "penalties" came from a Jay Giles free kick but it curled wide of the right post.
Knaphill 1 (Dan Bone 105); Jersey Bulls 0
Attendance – 207
Programme – Yes (sold out an hour before kick-off)
Knaphill – Jos Barker, Zac Horkan (c), Brandon Jackson, Joe Dyett (vc), Aaron Burchett (wore 12), Tom Drinkwater, Sean Swift (wore 20), Stacey Thripp, Aaron Redford (wore 21), Calvin Camara, Adam Poynter (wore 22)
Substitutes – 5. James Ward (not used), 7. Zac Hawker (for Thripp 90+3), 13. Dease Kerrison (sub GK) (not used), 15. Luke Maguire (for Horkan 70), 16. Dan Bone (for Swift 97), 17. Jack Williamson (for Redford 66), 19. Josh Pound (not used).
Red & White Halves/Blue/White; GK Light Blue/Light Blue/Orange
Jamie Daltry and John Cook (Joint Managers), Lee Trussler (Assistant), Ricky Mallet (Coach), Mark Gorman (Coach), Chris Rye (GK Coach), Frank Hampton (Physio.)
Jersey Bulls – Euan Van der Vliet, James Queree (c), Jay Giles, Ben Le Rougetel (wore 19), Luke Campbell (wore 15), Adam Trotter, Francis Lekimamati, Luke Watson, Fraser Barlow, Barry Beatson, Miguel Carvalho
Substitutes – 16. Jonny Le Quesne (not used), 17. Fergus Boyle (for Beatson 64), 18. Leighton Gilroy (for Lekimamati 90+3), only three substitutes
Orange/Navy design/Navy/Navy; GK All Dark Green
Gary Freeman (Manager), Richard Hebert (GK Coach), Ciaran Pack (Physio.)
Formations
Knaphill (4-4-2 R to L) 1; 12-6-4-3; 2-8-20-22; 10-21
Jersey Bulls (4-5-1 R to L) 1; 2-19-15-3; 7-6-8-10-11; 9
Referee – Grisha Zeigermaher (Wembley) 22 year old, originally from Latvia, who then spent 11 years in Turkey as a professional kick boxer. He moved to England three years ago and is now a Level 4 referee after being fast tracked by the F.A.
Assistants – Ndoda Diamini (Aldershot) on the dug-outs side who replaced Patrick Griffin (Hanwell) when the draw meant the winners would host Hanwell Town. Diamini is an Army Staff Sergeant who relocated from Swaziland (now Eswatini) in 2004. Alex Leaver (Surbiton) on the lower side.
Cautions – Jackson (K) 8, Beatson (JB) 47, Swift (K) 58, Maguire (K) 78, Boyle (JB) 81, Dyett (K) 81, Thripp (K) 90+2, Watson (JB) 90+2, Trotter (JB) 96, Giles (JB) 107, Hawker (K) 113, Gilroy (JB)114, Campbell (JB) 118
Corners – Knaphill (3) 4 (5) 5; Jersey Bulls (2) 2 (3) 4
Player of the Match – Ben Le Rougetel
Added Time – 3.25, 6.15, 3.10 & 3.35 (16.25)
JERSEY BULLS
VS
7.
Francis Lekimamati
90+3 ↓
10.
Barry Beatson Jr
63 ↓
18.
Leighton Gilroy
90+3 ↑