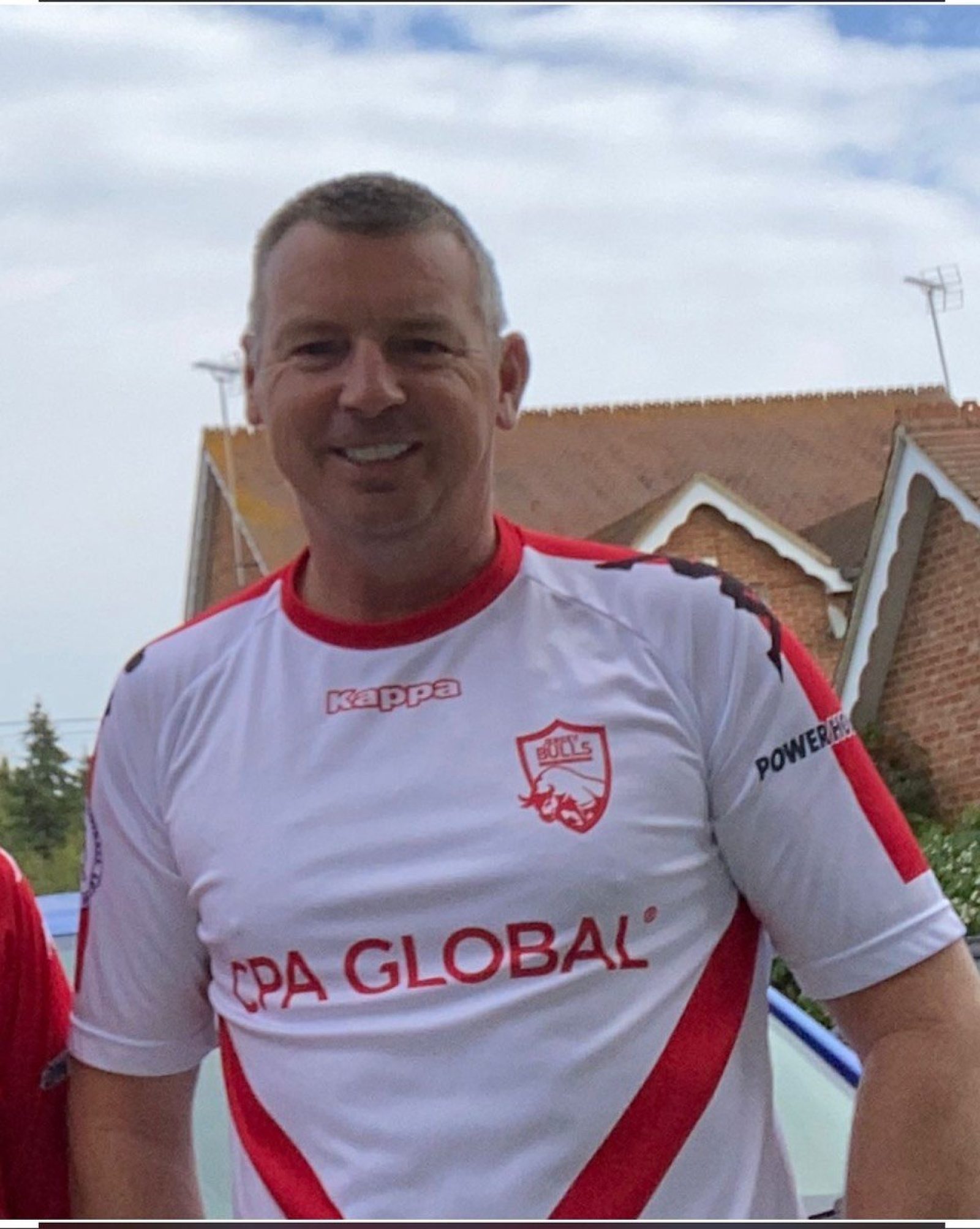 INTERVIEW WITH ADIE VICCARS
Q&A Interview with Adie Viccars – JBFC Executive Committee – Fans Liaison Officer
Adie (Adrian) Viccars originally of North Buckinghamshire, married Fiona Weston, a Jersey girl, who many years later, finally persuaded him to make the island home 6 years ago. A firefighter for over 20 years, Adie has since established his own successful painting and decorating business in Jersey.
Adie has supported Newcastle United since falling in love with them in his early – some would say rather impressionable – teenage years, but in his words "they have let me down ever since!".
Recently invited to join the Bulls Executive Committee as the Fan Liaison Officer it's now time to get to know Adie better.
Q: How did the fan zone start?
A: It started with the very first league home match against Ash Utd. I wandered to the ground with little or no expectation of what it would be like. I'd heard about some of the pre-season games and thought I'd like to watch.
With a 3-0 final score, I could see the team were good, and that being a supporter of a local team would have some real advantages. I went to the game on my own and saw that a few other people had done likewise. At the next game there were a few of the same familiar faces. Matthew Dyer and his son invited me to sit with them. Encouraged by each other we clapped and cheered throughout the game, and we discussed getting more people together.
We approached Ian Horswell and Laura Robertson, Directors at the club, about setting up a fan zone area in the stands and a Facebook page. From these small acorns our group has grown, and we now have a position at the top of the stands where the acoustics are even better for us.
We want to encourage as many people as possible, from any background, to come along and join us in supporting the Jersey Bulls. In time we may change the fan zone name to something more welcoming, as we really don't want anyone put off by the singing etc. it's not a rule of joining.
Q: How excited are you to join the JBFC Executive Committee?
A: I was really shocked and taken aback when I was approached. I had of course spoken to Russ and Ian on a few occasions and shared my views but thank goodness they have taken that in the right spirit. I am very honoured and extremely excited to get involved.
It is a wonderful opportunity to represent all supporters – at any level – in Jersey, in the UK, even those further afield and to start a journey of fan inclusion.
We are so fortunate in Jersey to have such a rich catchment area of football fans, every parish has a team and their own supporters, every pub showing football matches on TVs has fans I would love all of them to experience and enjoy supporting the Jersey Bulls.
Q: What is the goal for this role?
A: I will work closely with the Directors of the club to define exactly what our path looks like, but essentially, I will be responsible for being the voice of the loyal supporters, we want to promote inclusivity and diversity, we are after all a community football club.
We want to understand how supporters can help the club, take some of the weight off the shoulders of the club volunteers, help with fundraising, assist with ticketing or away game travel and so much more.
Q: How do fans and supporters get in touch or raise topics with you?
A: I may regret saying this but my personal philosophy is to be open, honest, and transparent and I want everyone to feel comfortable in reaching out to me via our Facebook Jersey Fan Zone page. Where appropriate I will give my personal phone or email so that people have a truly direct line but start by sending a message to the Fan Zone page or the Jersey Bulls page. I'd also encourage anyone who follows the Bulls main social media to follow us too as we have loads of really interesting content.
Q: Favourite moment with the Jersey Bulls so far?
A: There have been so many since the very beginning, up to last weekend's 5-1 win in the FA cup qualifying, how am I supposed to choose?
It was probably getting that text from Ian inviting me to join the committee. It really showed me that the club cares, that the club is listening and is progressive. It means that we the supporters can have a real meaningful part to play in shaping the future of the Jersey Bulls.
Q: What is the next match you plan to attend?
A: Well as the club requested to have initial matches in the league played away to minimise any lingering Covid impact, and our next FA Vase and FA Cup matches are away…I plan to watch them all via the live streaming where it's available. We have unofficially created a fan zone match day HQ at the Shipwright by People's Park in St. Helier, so it's like a home game in a different location. Do come along, say hello, and join us.